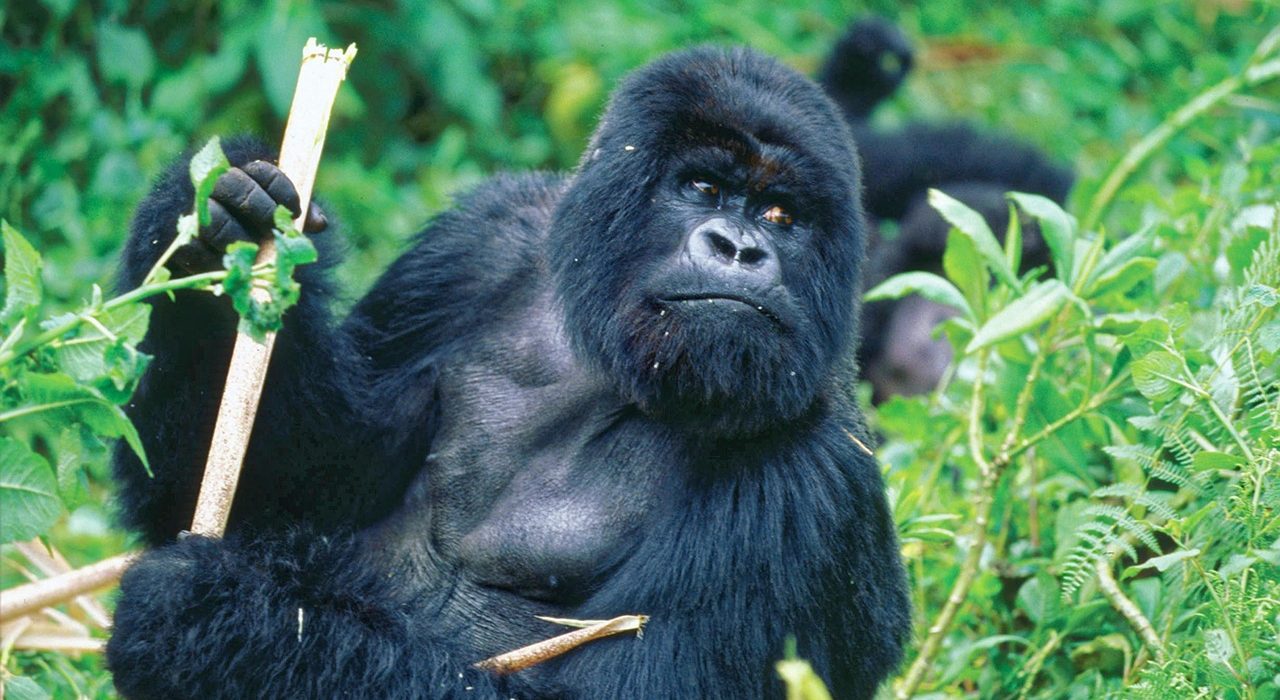 11 DAYS GORILLA TREKKING AND CLASSIC TANZANIAN SAFARI COMBINED
CATEGORY: WILDLIFE SAFARI
DESTINATION
Kigali CIty | Volcanoes National Park | Serengeti |Ngorongoro |Tarangire | Arusha City
DURATION
11 Days | 10 Nights
PICK UP
Kigali International Airport
Tour Overview
This journey shows you two of the greatest highlights of the natural world.
Meet the Mountain gorillas of Volcanoes National Park in Rwanda, with a gaze so much like our own. This will be an unforgettable lifetime. 
From Kigali in Rwanda, fly in to Serengeti National Park; home to over 2 million wildebeests and 800,000 Zebras.
Itinerary
RWANDA
Day 1: Welcome to Kigali
Upon arrival at Kigali International Airport, Gilmag Safaris' representative will meet and transfer you to Kigali Serena Hotel, a charming, five-star hotel. In the afternoon, you will visit the touching Genocide Memorial Museaum. It's an outstanding point of interest for visitors and commemorates the victims of the tragic events of 1994 Genocide.
Accommodation: Kigali Serena Hotel with all meals included
Day 2: Volcanoes National Park
You'll be transferred by road to Sabyinyo Silverback Lodge at the edge of Volcanoes National Park where you'll spend the next two nights. Relax at the lodge in the afternoon and get a gorilla trekking briefing to make you ready for your experience tomorrow. Keep warm around the fire and enjoy the beautiful rain forest setting. Sabyinyo is close to the ranger station from where the treks start.
Accommodation: Governors' Sabyinyo Silverback Lodge, with all meals included.
Day 3: Gorilla Trekking | Day 1
Grab a quick breakfast and pack your equipment before your trek, and meet at the ranger station. There, you'll be allocated your guide and the gorilla family you'll go to see. Your trek could be as short as an hour, or perhaps three to four hours, depending on where the gorilla family is. Enjoy the hour you spend with these extraordinary animals. When you return, your boots will be cleaned for you and you can spend the afternoon relaxing and reflecting on the special experience.
Accommodation: Governors' Sabyinyo Silverback Lodge with all meals included.
Day 4: Gorilla Trekking | Day 2
Your second gorilla trek will be in the morning before you leave Volcanoes National Park. You'll experience much more on your second trek – the first one is so quick and magical that you struggle to take it all in. This also gives you the opportunity to see a different gorilla family from the one on your first trek. After lunch you'll be transferred back to Kigali. .
Accommodation: Kigali Serena Hotel, with dinner and breakfast included.
TANZANIA
Day 5: Serengeti National Park
A very early coastal flight will take you to Seronera Airstrip in Central Serengeti, where your private professional Tanzania Tour guide will be waiting to meet you. Settle in at Four Seasons Safari Lodge Serengeti and enjoy an early lunch and a siesta before embarking on afternoon game viewing. This will be an unforgettable moment for anyone seeing Serengeti for the first time. As you progress well into the Serengeti, you will see why the name means, in the local language, 'endless plains'. The park has 6,900 sq. mile (18,000 sq. km) and for most of it, the plains will stretch to the horizon defying your senses and perception of distances. It is the home of the Great Migration and to 2 million wildebeests, hundreds of thousands of zebras and all kinds of antelopes including the abundant impalas and Thomson's gazelles. It is the place of choice to look out for lions, cheetahs, leopards, hyenas, with many television scenes like the famous river crossings having been filmed in this park. Smaller animals like foxes, mongoose, honey badgers, jackals, monkeys, baboons, rock hyrax and African hares, together with more than 500 species of birds, also inhabit this park. In the evening, you will return to the lodge for dinner and overnight.
Accommodation: Four Seasons Safari Lodge Serengeti with all meals included
Day 6: Full Day in Serengeti
Leave the lodge with packed breakfast for early morning game viewing as the animals begin to stir. Watch as early morning activities begin: hippos return to water after foraging for food in the dark; elephants rustle through trees in search of breakfast; and lions amble back from a hunt with wide, yellow eyes. At around noon, return to the lodge for hot lunch. At around 3.00 PM, start your afternoon game viewing. During an afternoon game drive, watch for cheetahs, crocodiles and leopards.
Accommodation: Four Season Safari Lodge Serengeti with all meals included
Day 7: Olduvai Gorge – Ngorongoro Conservation Area
After an early breakfast, we shall depart the lodge with packed lunch. We shall have game en route to Ngorongoro Conservation Area with a stopover at Olduvai Gorge, one of the world's most famous fossil and archaeological sites, dating back two million years and where many finds of early humans were discovered. Tour the Olduvai Museum before having a picnic lunch. Thereafter, we shall proceed to Lemala Ngorongoro Camp, arriving in time for dinner and overnight.
Accommodation: Lemala Ngorongoro Camp, with all meals included
Day 8: Ngorongoro Crater Tour
After Breakfast, depart the camp with packed lunch and drive to the Crater Descending point. We shall descend 600 meters into the crater to view wildlife. Supported by a year round water supply and fodder, the Ngorongoro National Park supports a vast variety of animals, which include herds of wildebeest, zebra, buffalo, eland, warthog, hippo, and giant African elephants. Another big draw card to this picturesque national park is its dense population of predators, which include lions, hyenas, jackals, cheetahs and the ever-elusive leopard, which sometimes requires a trained eye to spot. We will visit Lake Magadi, a large but shallow alkaline lake in the southwestern corner, which is one of the main features of the crater. A large number of flamingos, hippos and other water birds can usually been seen here. You are guaranteed to see large concentrations of game. The mineral-rich floor of this spectacular bowl is largely flat, open and covered in nutritious grasses – much to the liking of large herds of zebra and wildebeest, which graze here. These extensive open plains are also home to herds of buffalo, Thomson's gazelle, Grant's gazelle and tsessebe (often called topi). You'll also find East Africa's best population of black rhino here, which are often seen in open grasslands. Breeding herds of elephant pass through the Ngorongoro Crater itself only rarely, but you will see a scattering of old bulls, including some of the biggest tuskers left alive in Africa today. The only surprising absentees from the Crater are Impala and Giraffe; it is thought that this is perhaps because of the lack of open woodlands and browsing species of trees which these two tend to thrive on. After a full day game viewing, you will ascend the crater, exit the park and drive to Neptune Ngorongoro Luxury Lodge for dinner and overnight.
Accommodation: Neptune Ngorongoro Luxury Lodge, with all meals included
Day 9: Tarangire National Park
After breakfast, we shall drive you to a very special national park, Tarangire National Park arriving in the mid morning to start your game viewing. Tarangire is famous for its diverse landscape with nine different vegetation zones. The park is particularly known for the abundance of Ancient Baobab trees (the largest trees in the continent) which fill the landscape and dwarf the animals next to them. The river of the park is full of wildlife ranging from a large variety of birds to lions, leopards, zebras, giraffes, buffaloes, antelopes and, of course, elephants. In fact, the park has the largest concentration of elephants in the whole country and provides unique chances to observe the interaction between elephant families. The lunch area is fascinating, boasting an observatory with amazing views to the river and wildlife (with good chances of seeing a hunt while having your picnic). Later in the evening, we shall drive to Tarangire Sopa Lodge for dinner and overnight.
Accommodation: Elewana Tarangire Treetops, with all meals included
Day 10: Arusha City Tour
After late breakfast, we shall depart the lodge with packed lunch and drive to Arusha. Arusha City, which is also referred to as The Geneva of Africa, was established in 1900 as a minor German Military Garrison for the colonial administration. Arusha is the gateway to safari destinations, and to Africa's highest peak, 5895m Mt. Kilimanjaro, lying some 100 kilometres northwest. We shall visit the Cultural Heritage and the local Masai market to purchase souvenirs to take back home if you wish to. In the late afternoon, we shall drive you to Elewana Arusha Coffee Lodge for dinner and overnight.
Accommodation: Elewana Arusha Coffee Lodge, with all meals included
Day 11: Departure
After breakfast and depending on time of your flight, your guide will pick you up from the lodge and drive to Kilimanjaro International Airport to catch your flight to next destination.
END OF SAFARI
Safari Includes
Park Entrance Fees

Transport in a 4WD with an open roof

Professional driver-guide

Full board accommodation on sharing basis

1 liter of water per person per day

Excursion as per the itinerary

Full day game drive 8hrs game drive.
Safari Excludes
Beverages and alcoholic drinks

Items of personal nature

International Flights ( From / To Home )

Telephone bills

Medical insurance

Tips
CONTACTS