12 ROMANTIC LUXURY HONEYMOON VACATION
CATEGORY: WILDLIFE SAFARI AND ZANZIBAR HOLIDAYS
DESTINATION
Tarangire | Ngorongoro | Lake Manyara | Serengeti | Zanzibar
DURATION
12 Days | 11 Nights
PICK UP
Julius Nyerere International Airport
Tour Overview
This 12 days tour combining immersive Big Five Safari with tropical beach Island Bliss is beautifully crafted for couples seeking pure romantic escapism. You will visit Tarangire and Lake Manyara National Parks. The twin wonders of the Serengeti and Ngorongoro captivate and enthrall, leaving the two of you alone amongst nature's greatest shows. After the action filled wildlife safari, idyllic white sand splendor gently lulls you into hibernation; Zanzibar Island unveiling the ultimate luxuriant beach getaway. Throughout it all, you will experience utter privacy and tranquil romance. This tour can also be adjusted to meet every need and is available throughout the year.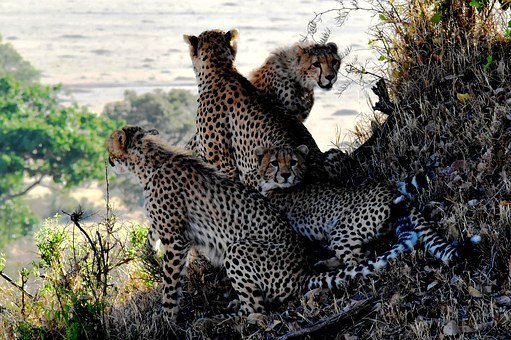 Itinerary
Day 1: Arrival – Transfer to Arusha
You begin your magical holiday as you board your flight to Tanzania; the Heart of an African Safari. On arrival at Kilimanjaro International Airport you will clear with the customs and Immigration as Gilmag Safaris' representative will be waiting to meet you. You will be briefed and then transferred to Lake Duluti Lodge for dinner and overnight. Lake Duluti Lodge is located 40 minutes' drive away from Kilimanjaro International Airport. Depending on your arrival time, you will participate in extra activities such as canoeing, hiking and walks, cultural tours and coffee farm tours. You will have a private candlelight five-course dining with a complementary sparkling wine of your choice.
Accommodation: Lake Duluti Lodge
Day 2: Arusha – Tarangire National Park
After early breakfast, you will depart the lodge and drive to Tarangire National Park, arriving in mid-morning to start our game drive. We will then enjoy our picnic lunch overlooking the Tarangire River, before enjoying the afternoon game drive. Among the thousands of Baobab that mark the landscape, we will enjoy Tanzania's largest concentration of elephants. In addition to elephants, leopards, ostrich, lions, warthog, zebras and cheetahs are common sightings in Tarangire. If we are fortunate, we may encounter the much endangered wild dog. As this park is slightly off the main safari route, majority of travelers leave this out in favor of the nearer ones, which leaves major parts of Tarangire untouched. After a full day game viewing, we will drive Nimali Africa Luxury Camp for a private bush dinner and overnight. This small and intimate hidden gem is nestled under the shade of acacia trees overlooking a pretty dry riverbed bordered by huge and dramatic granite boulders.
Accommodation: Nimali Africa Luxury Camp
Day 3: Tarangire – Manyara National Park
After breakfast you will drive to Mtowa Mbu town for a guided village walk. The walk will give you an opportunity to interact with the local people, visit local homes, a taste of traditional beer, banana and rice farms, etc. For lunch you could try a home cooked lunch or the local skewers of goat meat, the well known Nyama Choma. You will then continue to Lake Manyara for game viewing. Lake Manyara provides a perfect introduction to Tanzania's birdlife. More than 400 species have been recorded, and even a first-time visitor to Africa might reasonably expect to observe 100 of these in one day. Inland of the floodplain, a narrow belt of acacia woodland is the favoured haunt of Manyara's legendary tree-climbing lions and impressively tusked elephants. Overnight will be at Lake Manyara Tree Lodge, a towering terracotta escarpment with panoramic views over the glittering alkaline waters of Lake Manyara. Extra services provided will include honeymoon surprises.
Accommodation: Lake Manyara Tree Lodge
Day 4: Manyara–Ngorongoro Crater Tour
After breakfast, you will depart the lodge with picnic lunch and drive to Ngorongoro crater for game viewing. You will spend the day at the floor on the crater (the 8th wonder of the world) exploring its rich flora and fauna. This is the best place to encounter the endangered black rhino and flamingos in Lake Magadi. Other animals include Thomson's and Grant's gazelles, warthogs, hippos, zebras, waterbucks, hyenas, jackals and if lucky enough, lions will be sleeping by your vehicle for shade. In the evening, you will ascend the crater and drive Ngorongoro Crater Lodge for dinner and overnight. This lodge clings to the rim of the magnificent Ngorongoro Crater, the largest volcanic crater on earth. Long and low, the lodge is built from local river stone and camouflaged with indigenous vines. This is designed to blend completely with the landscape and is entirely invisible from the floor of the crater 600 metres below.
Accommodation: Ngorongoro Crater Lodge
Day 5: Ngorongoro Conservation Area – Serengeti National Park
After breakfast we will head towards the Serengeti National Park, leaving the highlands behind, we descend into the heart of wild Africa – the Serengeti National – with its endless plains, rolling into the distance as far as the eye can see. We head to the Seronera area, one of the richest wildlife habitats in the park, featuring the Seronera River, which provides a valuable water source to this area and therefore attracts wildlife well representative of most of the Serengeti's species. We enjoy a game drive en-route to the lodge. We arrive in time for lunch at Four Seasons Lodge and enjoy an afternoon game drive in the Serengeti national park, followed by sundowner at a vantage point. Located on the Eastern edge of the Seronera Valley, far away from the noise and disturbance of the well-travelled tourist circus and near the famous Barafu Kopjes, Four Seasons Lodge boasts quiet seclusion, panoramic views of the wide open Savannah plains and the Ngarenanyuki River meandering along the edge of the lodge. It is uncommon to see wildlife visiting the spring-fed watering hole, including the neighboring lions' pride.
Day 6: Full Day in Serengeti with Hot Air Balloon
At 5:00 am, Serengeti Balloon Safaris will collect you from Four Seasons Lodge in Central Serengeti and transfer you by Landrover/Landcruiser to their launch site. Here you will meet your pilot, receive a briefing and watch the inflation of your balloon. At dawn we take off, rising as the sun rises and floating in whichever direction the winds of the morning take us. Your pilot can precisely control the altitude of our balloon: sometimes flying at treetop height, sometimes lower, offering a unique perspective and great photographic opportunities of the wildlife below. At other times our pilot may ascend to 1,000 ft or more, to see the enormity and wonderful panorama of the Serengeti. From time to time the pilot must .put more heat into the balloon with the powerful whisper burners. In between these burns, there is silence apart from the natural sounds below. The flight is for about one hour, depending on conditions, and eventually we must land. We celebrate in the traditional manner with champagne (well, an excellent sparkling wine) before sitting down to a full English breakfast prepared and served in the bush in "Out of Africa" style with bone china, linen table cloth, Sheffield cutlery etc.
After breakfast you receive your Serengeti Balloon certificate and later meet up with your safari guide ready to continue your day's activities. Later in the evening, you will return to the lodge for a well-deserved hot shower followed by an exclusive bush dinner in total wilderness.
Accommodation: Four Seasons Lodge
Day 7: Serengeti – Zanzibar
Sunrise breakfast in the bush, return to the camp to freshen up then later be transferred to Seronera Airstrip in Central Serengeti to catch your flight to Zanzibar. Upon arrival in Zanzibar, you will be met by Gilmag Safaris' representative and then transferred to the Xanadu Villas, where a well and stylishly decorated room with a fruit platter and a bottle of sparkling wine will be awaiting you.
Accommodation: Xanadu Luxury Villas Zanzibar
Day 8 – 11: Zanzibar
With its beautiful sandy beaches, colourful coral reefs and clear turquoise waters, Zanzibar is an excellent relaxing place after wildlife safari. These four days will be spent relaxing at beach, however, should you wish to be active, then there are plenty of excursions that you can join, such us visits to the historic Stone Town, Prison Island, Jozani Forest, cultural tours to the local villages and the Spice Plantation. There is also a wide variety of adventure activities that you can enjoy while here; including hiking, bird watching, sea kayaking and sailing and mountain biking. The Island also has fabulous coral reefs, which are perfect for diving and snorkeling. If you are lucky, you will see green turtles, dolphins and maybe whale sharks depending on the time of the year. During your stay at the Z hotel, you will select a day of your choice when you will be treated to lobster dinner either at the Villa or at Saruche Restaurant. Accommodation will be on All Inclusive throughout your stay in Zanzibar.
Accommodation: Xanadu Luxury Villas Zanzibar
Day 12 – Departure
After an adventurous wildlife safari and a fantastic holiday, today is the day to bid goodbye to Tanzania. You will have your hearty breakfast and then be transferred to Airport to catch your flight to Dar Es Salaam for onward flight to your next destination.
END OF TRIP
Safari Includes
Park Entrance Fees

Transport in a 4WD with an open roof

Professional driver-guide

Full board accommodation on sharing basis

1 liter of water per person per day

Excursion as per the itinerary

Full day game drive 8hrs game drive.
Safari Excludes
Beverages and alcoholic drinks

Items of personal nature

Telephone bills

International Flights ( From / To Home )

Medical insurance

Tips
CONTACTS