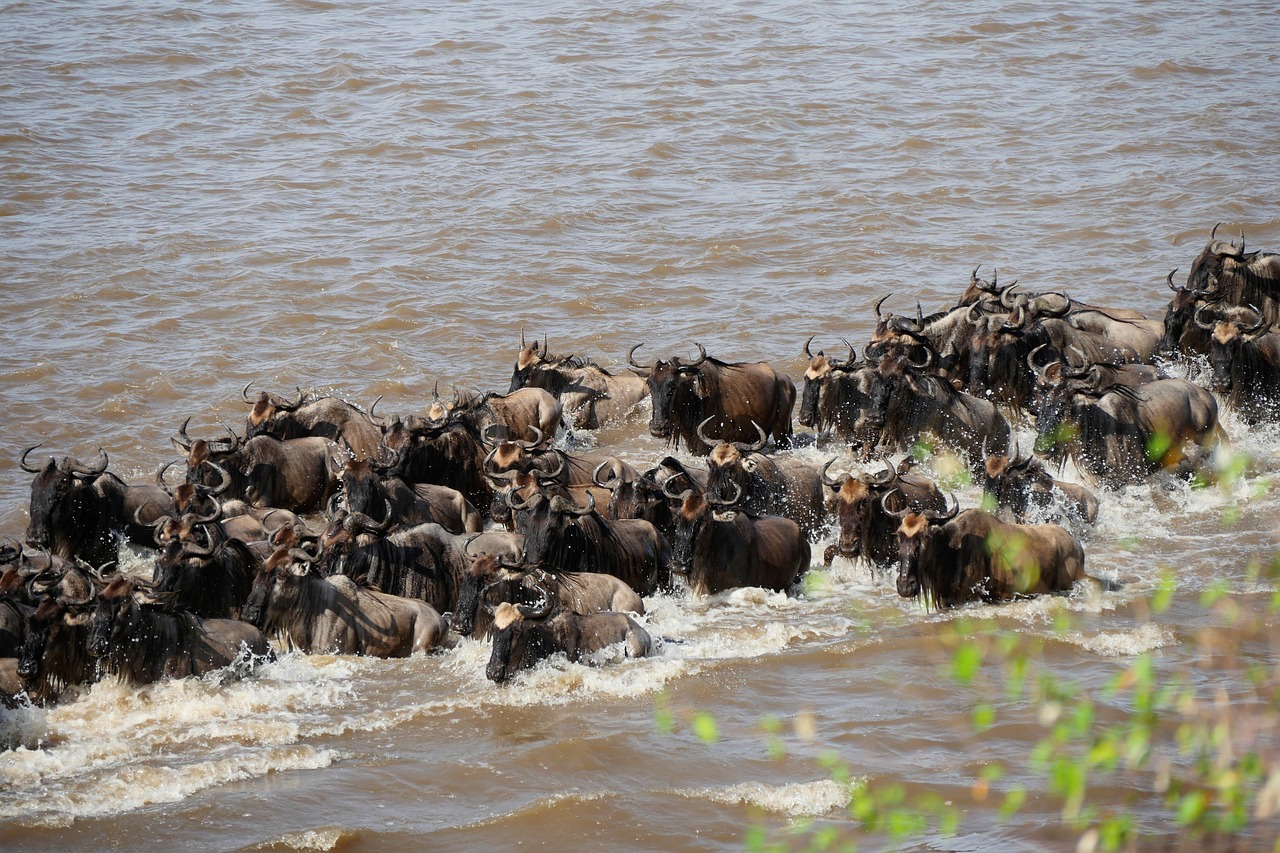 7 DAYS WILDEBEEST (GNU) MIGRATION – NDUTU CALVING SEASON
CATEGORY: WILDLIFE SAFARI
DESTINATION
Tarangire | Ngorongoro | Serengeti
DURATION
7 Days | 6 Nights
PICK UP
Kilimanjaro International Airport
Tour Overview
The secret to a Serengeti safari is knowing where to be and when to be there in order to enjoy the great migration.  The migration is not only all about the dramatic river crossing up North but it is also in other parts of Serengeti.  This tour takes you to calving season down South around Ndutu area, where an estimated 500,000 young wildebeests are born.  Of course the masses of young wildebeests are meals in waiting for predators, with plenty of hunts and kills happening as the concentrated herds attract a good number of lions, cheetah and hyenas.  It is a great time for photography, with elephants, giraffes and buffalos being pretty easy to spot amongst many flat topped acacia trees and across sweeping grasslands.  Parks to be visited are Tarangire, Ngorongoro and Serengeti.
Itinerary
Day 1: Arrival – Transfer to Arusha
You begin your magical holiday as you board your flight to Tanzania, the Heart of an African Safari.  On arrival at Kilimanjaro International Airport you will clear with the customs as Gilmag Safaris' representative will be waiting to meet and brief you then transfer you to Gran Melia Hotel (approximately 60 kilometres from Kilimanjaro International Airport).  Arusha has a comfortable temperature and climate.  The city is close to many of Tanzania's greatest attractions and is a major international diplomatic hub.  While at the lodge, you will be given briefing about your upcoming safari.
Accommodation: Gran Melia Hotel
Day 2: Arusha – Tarangire National Park
After breakfast, we will pick you up from the hotel and drive to Tarangire National Park, some 130 Kilometres from Arusha, arriving around 09.00 AM to start our game drive.  We will then enjoy our packed lunch overlooking the Tarangire River, before enjoying the afternoon game drive.  Among the thousands of Baobab that mark the landscape, we will enjoy Tanzania's largest concentration of elephants.  In addition to elephants, leopards, ostrich, lions, warthog, zebras and cheetahs are common sightings in Tarangire.  If we are fortunate, we may encounter the much endangered wild dog. As this park is slightly off the main safari route, majority of travelers leave this out in favor of the nearer ones, which leaves major parts of Tarangire untouched and rich.  After a full day game viewing, we shall exit the park and drive to Karatu Area for dinner and overnight.
Accommodation: The Retreat At Ngorongoro
Day 3: Karatu – Ngorongoro Crater Tour
We will depart the lodge and drive towards the Ngorongoro Conservation Area.  We will descend over 600 metres into the crater and have a full day crater tour.  Supported by a year round water supply and fodder, the Ngorongoro National Park hosts a vast variety of animals e.g. herds of wildebeests, zebras, buffalos, eland, warthogs, hippos and giant African elephants.  We shall visit LakeMagadi, a large but shallow alkaline lake in the South West corner, which is one of the main features of the crater.  In the evening we shall ascend the crater and drive to Ngorongoro Lions Paw Lodge, located on the rim of the crater for dinner and overnight.
Accommodation: Ngorongoro Lions Law
.
Day 4: Ngorongoro Conservation Area – Ndutu Area
After breakfast, we will head to Ndutu area, situated in Ngorongoro Conservation Area, part of the Serengeti Ecosystem.  Lake Ndutu is alkaline, like most of the Rift lakes.  We arrive in time for lunch at Lake Masek Tented Lodge and after a sumptuous lunch, we will have game drive in Ndutu area.  The majority of the wildebeests can be found here around December and March.  The area is also heavily populated with elephants, birds and resident game. 
Accommodation: Lake Masek Tented Lodge.
Day 5: Full Day in Ndutu
After breakfast, enjoy full day game viewing in the Ndutu Area.  Explore the range of different habitats that include swamps, woodlands, soda lakes and the world famous Serengeti short grass plains.  See the great herds of wildebeests and zebras.  During a short time frame, around February normally lasting for about three weeks, the majority of the wildebeests calve.  Wildebeest's calves can run minutes after they are born and within 3 days they are strong enough to keep up with the herd.
Accommodation: Lake Masek Tented Lodge
Day 6: Serengeti National Park
After breakfast, we will depart the camp with picnic lunch and drive towards Serengeti National Park with game en route.  Serengeti National Park is Tanzania's most famous park and it is also the largest at 14,763 square kilometer of protected area that borders Kenya's Maasai Mara Game Park.  Its far-reaching plains of endless grass, tinged with the twisted shadows of acacia trees, have made it quite essential image of a wild and untamed Africa.  Its large stone kopjes are home to rich ecosystems, and the sheer magnitude and scale of life the plain supports is staggering.
Accommodation: Kubu Kubu Tented Lodge
Day 7: Serengeti National Park – Kilimanjaro International Airport
After breakfast, we will depart the lodge with picnic lunch.  Enjoy game en route as you head back to Arusha via Ngorongoro Conservation Area, arriving in the evening for drop off to Kilimanjaro International Airport to catch your flight back home.
Safari Includes
Park Entrance Fees

Transport in a 4WD with an open roof

Professional driver-guide

Full board accommodation on sharing basis

1 liter of water per person per day

Excursion as per the itinerary

Full day game drive 8hrs game drive.
Safari Excludes
Beverages and alcoholic drinks

Items of personal nature

Telephone bills

International Flights ( From / To Home )

Medical insurance

Tips
CONTACTS